Delivery rake SP - 682D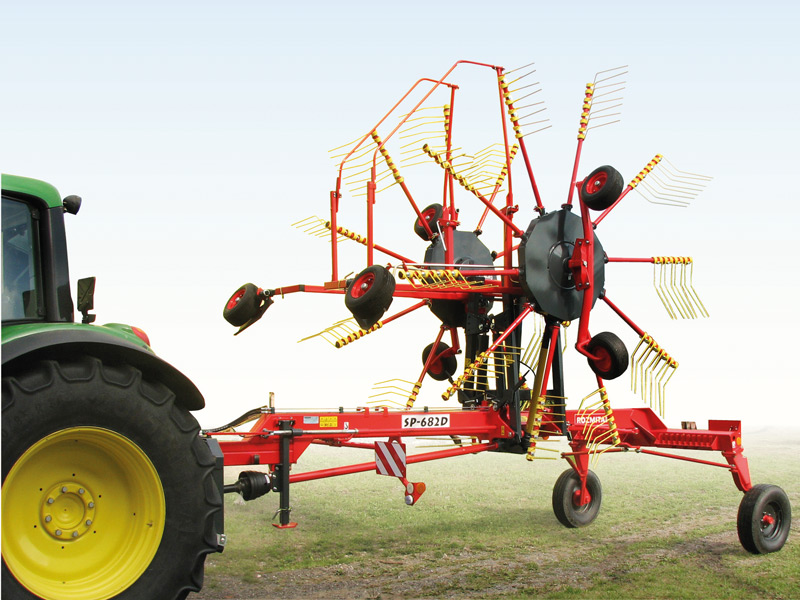 The SP - 682D and SP - 772D are two-rotor delivery rakes that create a centerline when raking.
The SP - 682D delivery rake as fixed span of 6,8 m and its centerline collection is 1,2 m wide. Both machines use hydraulics to convert from transport position to working position.
Copying the terrain
Both rotors of both the SP - 682D and SP - 772D delivery rakes are hung in such a way to be able to copy the terrain longitudinally and also diagonally irrespective of the position of the frame. This contributes to quieter work of the machine and to its increased capacity.
Steered back Wheels
New in the year 2012 with steered back wheels.
Technical data of the delivery rake
SP - 682D
maximum working width
m
6,8
transport width
m
2,90
diameter of the rotor
m
3,36
number of the rotors
pcs.
2
number of arms on the rotor
pcs.
10
number of the fingers on the arm
pcs.
4
size of the rotor tyres
3 / 16x6,5 - 8
size of the traveling tyres
225/65-16
minimum drive power of the tractor
kW
44
outlet shaft speed
rpm
540
area capacity
ha / hour
7
weight
kg
1770
cardan shaft type
AW21101
Internal cardan shaft
AW21101 K32
Video