Tedder OZ - 676, OZ - 676H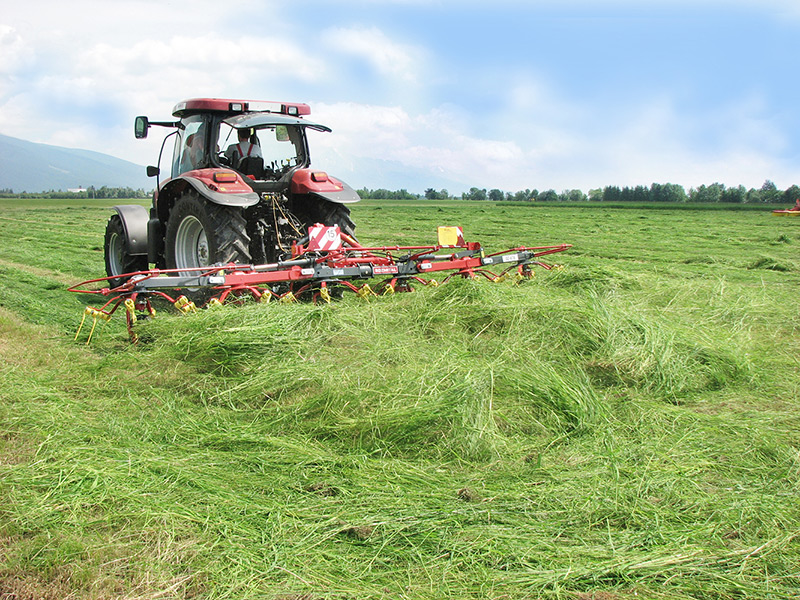 We introduce you the best selling machine from the production of Strojírny Rožmitál Company.
The OZ - 676 and OZ - 676H type has working span of 6,7 m and 6 working rotors.
The OZ - 676 and OZ - 676H tedder is transported in the hanging position, with the arms vertically upwards. Amortization bars ensure the stability of the transported machine through the three-point hitch.
The rotor travelling wheels can roll in a way that enables side-discarding of the fodder. Rolling is carried out by either releasing its lever, shifting it to the other position and pawling it there, or (with the OZ-676 H model) it can be done hydraulically, straight from the tractor cabin.
Technical data of the tedder
OZ - 676
OZ - 676H
working width
m
6,7
6,7
transport width
m
2,64
2,64
number of the rotors
pcs.
6
6
number of arms on the rotor
pcs.
6
6
diameter of the rotor
m
1,36
1,36
number of the fingers on the arm
pcs.
1
1
outlet shaft speed
rpm
540
540
size of the rotor tyres
16x6,5 - 8
16x6,5 - 8
maximum working width
m
6,7
6,7
area capacity
ha / hour
7,7
7,7
minimum drive power of the tractor
kW
44
44
cardan shaft type
AW35101 K33
AW35101 K33
weight
kg
795
798
Video